WebEd Tour
WebEd in 60 seconds?
There is nothing quite like a full demonstration of a product to understand all of its benefits and how it may suit your particular issues.
Sometimes though we just don't have the time. This quick run-through will show you how easily
WebEd
lets you update content, adopt styles and insert an image - all in just over sixty seconds. Kind of like 'Fast and Furious', without the cars, corny actors and hard-to-believe stunts.
Editing a page
In this quick demo you will see;
A user scroll down the page and login using the lock icon

Navigate to the page they want to edit

Open the page for editing

Switch to full screen mode

Insert some text content

Add an image to the page

Switch back to normal mode

Save the page and review the changes
Click the image below to see the
WebEd
fast and furious content update.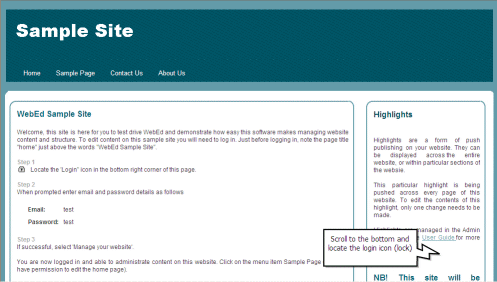 Inserting a New Page
In this demo you will see
Browse to the section to insert a new page

Add a new page

Create a title

Set where in the sitemap the new page will reside

Add some content on the page

Saving the page and reviewing the new navigation
Click the image below to see how easy it is to create a new page