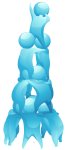 If you're like most organisations, your list of customers is stored in multiple places including Outlook contact lists, Excel spreadsheets, various sales lists maintained by the reps, scraps of paper and the accounting system. How do you ensure you can reach all of those contacts when you need to promote a new service or product? Customer Community is all about consolidating and then growing your prospect and customer database to ultimately to grow your business, FAST!.
When used in conjunction with our world class web management tool
WebEd

, it gives you a complete 360 degree method of growing your customer base and informing your marketplace.