Stay Informed
Tell us what you need
We have lots of solutions to all kinds of problems

You guys have been fantastic. The new website and customer database works together flawlessly to provide a solution that gives me complete control of lead generation.
Bryan Jones [company name withheld at customers request]

Email Newsletters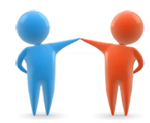 Trying to stay in touch with your customers and prospects is one of the more demanding requirements of todays fast paced business world. How do you quickly communicate with all of your customers and prospects in a simple fast manner that allows for personalisation to create a preceived one to one communication?

Customer Community is an easy to use email marketing application that quickly allows you to communicate with your customers and prospects. The ability to segment your customer lists and provide content specific to each visitor type by referral type, product of interest or specific campaign makes it easy to get the information your clients and prospects need to make informed descions about you and your companies products and services.

Easily handle "

Eureka Moments

",

talk to your customers and prospects on a regular basis and provide easy calls to action that result in increased revenue opportunities for your organisation.
Sample Newsletters
| | | |
| --- | --- | --- |
| | | |
| | | |
| | | |
| | | |