Customer Community Email Marketing provides a simple & effective way to build custom web forms for your website.
These forms can be simple newsletter signups, right through to advanced multi-step forms sending back user links to PDFs or web pages.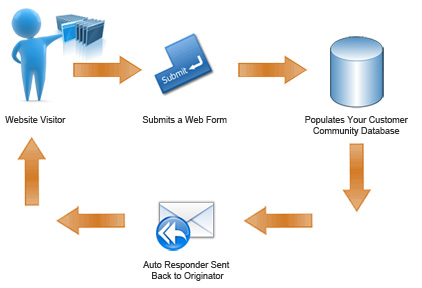 At Customer Community, we often see auto responders not being used effectively or in some cases, not at all. An auto responder gives your form great impact and tells the originator you have everything under control. It's a handy part of your web toolkit.
An auto responder is an automated follow up, sent to a user after hitting 'submit' on any Customer Community's subscribe forms set up on your website. The autoresponder acts as a follow-up email, assuring the user their details were received successfully.
Forms can be used to register for events, courses or to request more information regarding a product or service.
Why not use the auto responder email more effectively?
You can add links back to a PDF, user guide or webpage with more relevant information to the subscribe form. Some clients use forms for conference or training registration with the auto responder containing suggested readings or links back to venue directions. It's the perfect way to ensure the visitor receives the information they need, whilst making you look professional.
The level of personalisation auto responders offer mean they can be used as a tool for sending up-to-date marketing messages or to provide custom information in relation to product or service enquiry.
Why not add a seasonal message, a relevant news update or a quick personal note from the editor. As auto responders are template based, you can set a schedule to change the offer or message every 14 days.
You should use a custom auto responder for each subscribe form on your website, if users return more than one form over various visits to your site they will appreciate the relevance of the messages.
An example of an effective auto responder
The use of up-to-date information regarding upcoming events incorporated with a special offer of value to the user makes this auto responder an effective marketing and information tool.

Setting up auto responders
More information on subscribe forms, auto responders and third party notifiers can be found on
our website
.
Auto responders are easy to set up for all your subscribe forms. We have step by step instructions in
our user guide.